Looking for inspiration? We've got you covered with A New Direction's free Teaching for Creativity resources.
Created by A New Direction in response to the Durham Commission on Creativity and Education and as means of bringing alive Arts Council England's 10-year strategy, Let's Create, in schools, these excellent resources offer practical suggestions for teachers of many different subjects in the curriculum to broaden and diversify the curriculum.
Discover the resources
There are two kinds of resources, taster cards designed for busy teachers to pick up and use immediately and seven extended teaching resources for Key Stages 2 and 3, each of which is accompanied by short CPD modules. All of the resources have the five creative habits model at their heart (see below for a diagram of how this works) and cover subjects including, Relationship and Sex Education, History, Design Technology, Science, Geography, Music, Drama and Personal, Health and Special Education.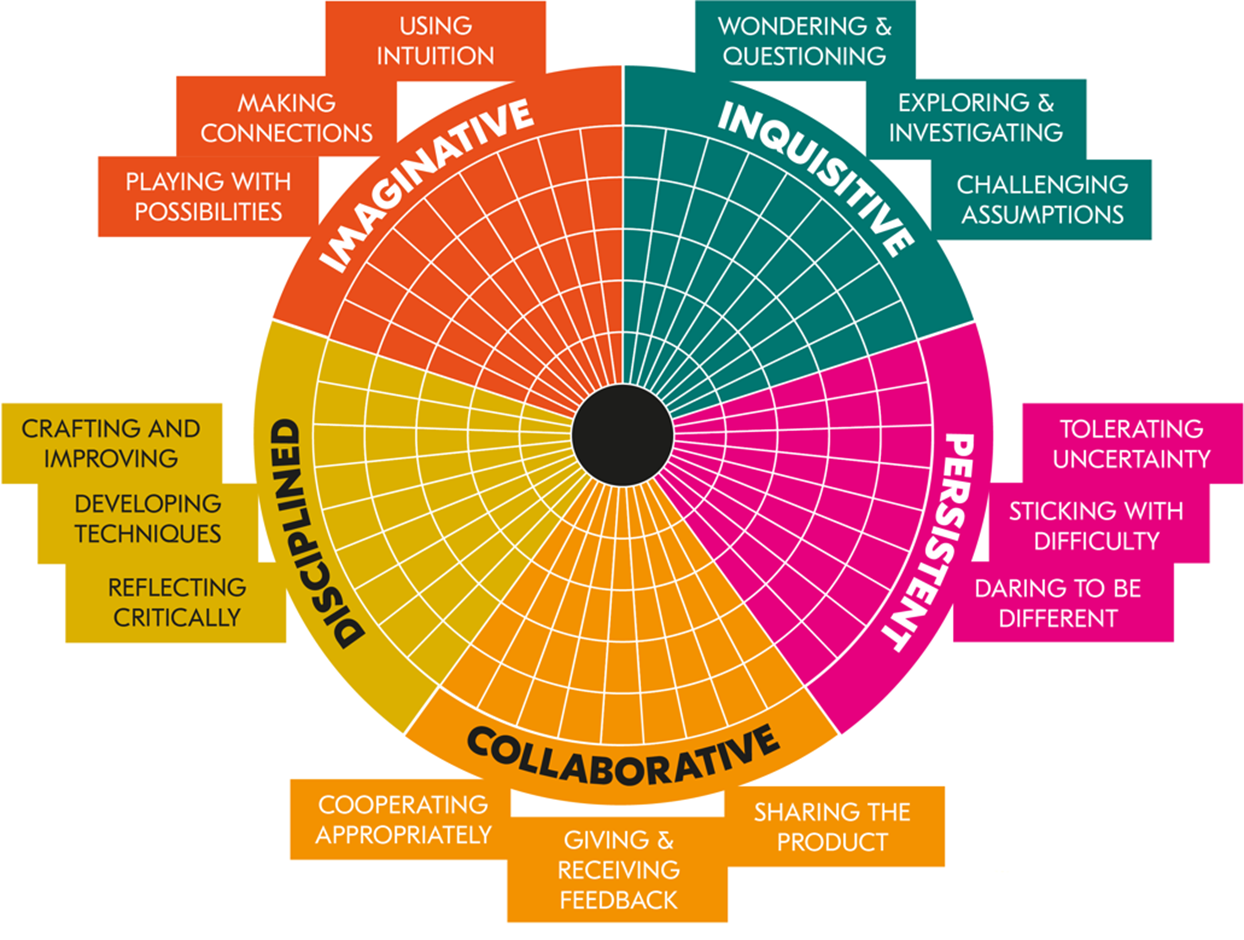 The Taster Cards
The taster cards, covering Primary, Secondary and SEND provisions, provide starter activities for teachers and teaching staff to explore and practise the creative habits through a range of quick, playful activities such as:
Thinking routines to develop imagination (See, Think, Wonder)
An activity to build intuition (Step Inside the Climate Crisis)
A maths game to build inquisitiveness (Wonder by Numbers)
An unbelievable story activity, to develop students ability to be critical thinkers and challenge assumptions (Fake News)
The cards are beautifully designed, immensely practical, full of great ideas and just the kind of material a teacher wanting high-quality resources would love to experiment with in their classroom.
Go deeper with extended resources
For those wanting resources to use over a series of lessons there are seven well-paced, thoughtful resources for you to explore. These cover topics such as:
Developing vocabulary and understanding of mental health and wellbeing
Encouraging children and young people to celebrate and respect their differences
Exploring Black British history
Imagining new ways of living through uncovering the impacts of colonialism on biodiversity
Using the power of music to explore emotions
Alongside many more! These longer resources offer imaginative ideas and draw on a wide range of cultural resources to being creativity alive in the classroom and embed creative thinking across the curriculum.
---
Take away idea
Explore the resources and find time to share a couple in your staff rooms and classrooms! Make sure to keep us posted with how you get on over on Twitter using #CreativityExchange.
---
A New Direction is an award-winning non-profit organisation working to enhance the capacity and agency of children and young people in London to own their creativity, shape culture, and achieve their creative potential.
They are also a Bridge Organisation of Arts Council England working to connect the cultural sector and the education sector so that children and young people can have access to great arts and cultural opportunities.